CHAMPION 7000 WATT DUAL FUEL GENERATOR | Model 100155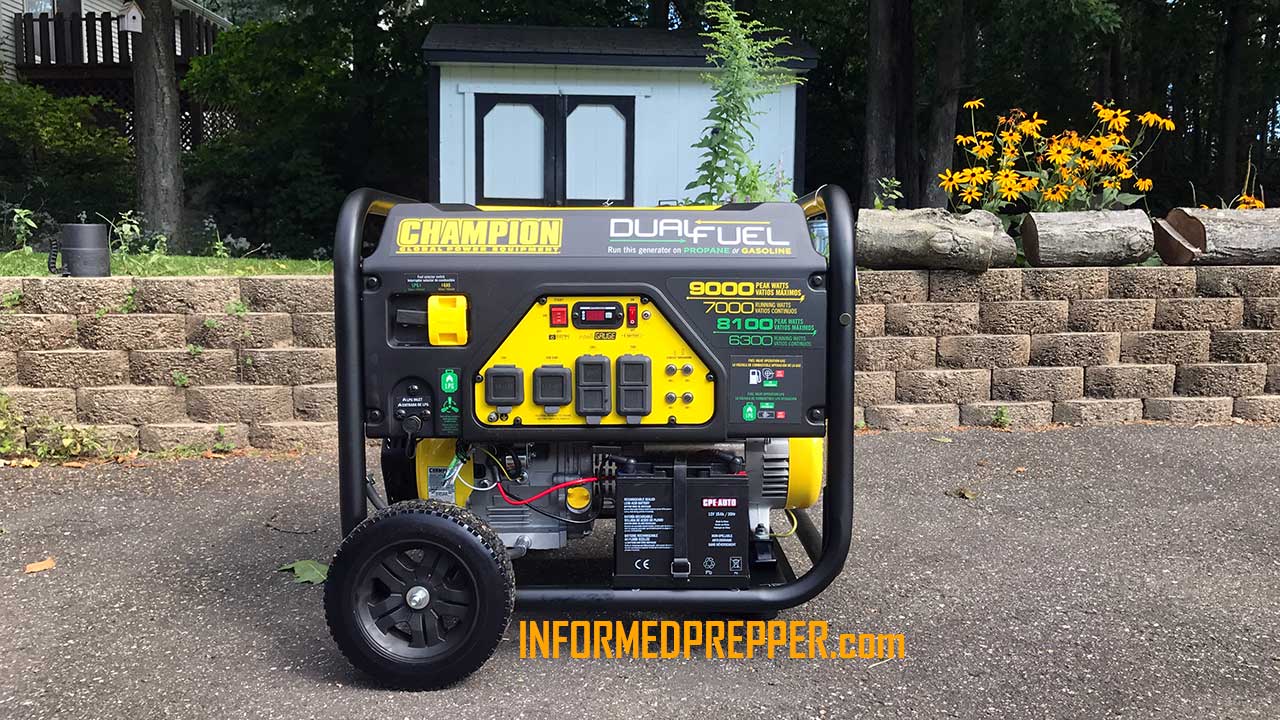 WHY I BOUGHT A CHAMPION 7000 WATT DUAL FUEL GENERATOR
When thinking about things beyond our control that can happen at home the loss of electricity is one of the biggest concerns. We are only a storm, natural disaster and an occasional electrical grid outage away from serious inconvenience and spoiled food. In my 51 years I have experienced a few week long power outages as well as a few shorter ones.  A power outage is never fun.  Well almost never fun. Back in 1985 hurricane Gloria took at power at my parents for a week but not at my job which was 1/4 mile away. Fortunately my parents had purchased a Yamaha generator. During that outage we brought my refrigerator and freezer to the day job which saved the food. By night I relied the generator to power my lights, television and stereo.  We used coolers and ice to keep the beer cold. I brought food home with me to cook on the gas grill. My parents went away before the hurricane. I was 19 years old and home alone to enjoy the outage  with friends….and beer. It was one of the best weeks of my youth. In the years that followed the hurricane the generator become a utility power source for other household needs like trimming the hedges and making my 115 volt 15 amp arc welder portable. Anyhow the value of a generator was a lesson I learned a long time ago.
Fast forward to 2015 moving from 20 years in an apartment to buying and living in my own home. The realization that I once again need a generator became apparent. Where I live now we lose power often. It's typically not out for long but I consider myself warned. Aside from the obvious reasons I have a not so obvious reason for wanting a generator. My home is a raised ranch and the garage is at the basement level and several feet below grade. In the center of the driveway is a drain. Before we bought the house it's rumored that the drain clogged and flooded the basement causing the owners to redo the entire finished basement. When we moved in I repaired the drain but it remains untested. We have not had any monsoon or hurricane type rain levels. My biggest fear no electricity and a drain that cant keep up with several inches per hour sustained rain that requires a pump.
A Dual Fuel Generator can operate on gasoline or liquid petroleum gas, the same gas and bottles used by your gas grill. Note: there are also Tri-Fuel Generators. In addition to gasoline and LPG the Tri-Fuel Generators can run on Natural Gas or "City Gas".
TRI-FUEL GENERATORS
If I lived where natural gas was an option I would have purchased a tri-fuel generator. It would take a pretty serious event to interrupt natural gas service. Natural Gas appliances (and running water) were a godsend when I experienced power outages in the 20 years of apartment dwelling. Tri-Fuel generators are the least common although there are kits to convert most generators to tri-fuel. Natural gas is a great option because it's clean, efficient and doesn't require refueling. This is especially important when gasoline and/or lpg are not obtainable. It also beats dealing with refueling in inclement weather.
GASOLINE GENERATORS
Gasoline generators are a blessing and a curse. Typically they run longer than an lpg generator but there is a major drawback to the fuel itself. That drawback is E15 ethanol, the gas you put in your car or truck. E15 has about a 30 day shelf life. After that the gas and alcohol begin to separate. The alcohol draws moisture from the air which in turn corrodes fuel systems. This means after use every ounce of fuel should be removed from the generator. Simply running out of fuel is not enough. Often is the case where the generator is put away with every intention of preparing it for proper storage but time goes by and it's forgotten. Users end up with a generator that doesn't start when they need it. Alternatively fuel without ethanol can be purchased for $10-$15 gallon that does not contain ethanol. That fuel has a shelf life of about three years. Dealing with E15 is a topic for another post. I will say for myself it's the second option unless Im faced with an extended power outage.
DUAL FUEL GENERATORS
For me a dual fuel generator such as the Champion 7000 watt generator is ideal. I have enough propane on hand to run my generator for about 30 hours straight. If that cant get me through a rain event I will probably have bigger problems than a flooded downstairs. By using propane solely I can literally put the generator away after use and not worry about fuel system issues like gas. I also one day plan on getting a LPG range for my home. That would give me a much larger tank to tap in to. (Some jurisdictions have rules regarding LPG). If I end up switching to gasoline I will run the generator out of fuel and put some 4 cycle TruFuel through the system. TruFuel has a 3 year shelf life.
Quite simply I bought the CHAMPION 7000 WATT DUAL FUEL GENERATOR because in general it got great reviews and my local Costco had it in stock. I would have bought it online from Amazon but it was out of stock at the time.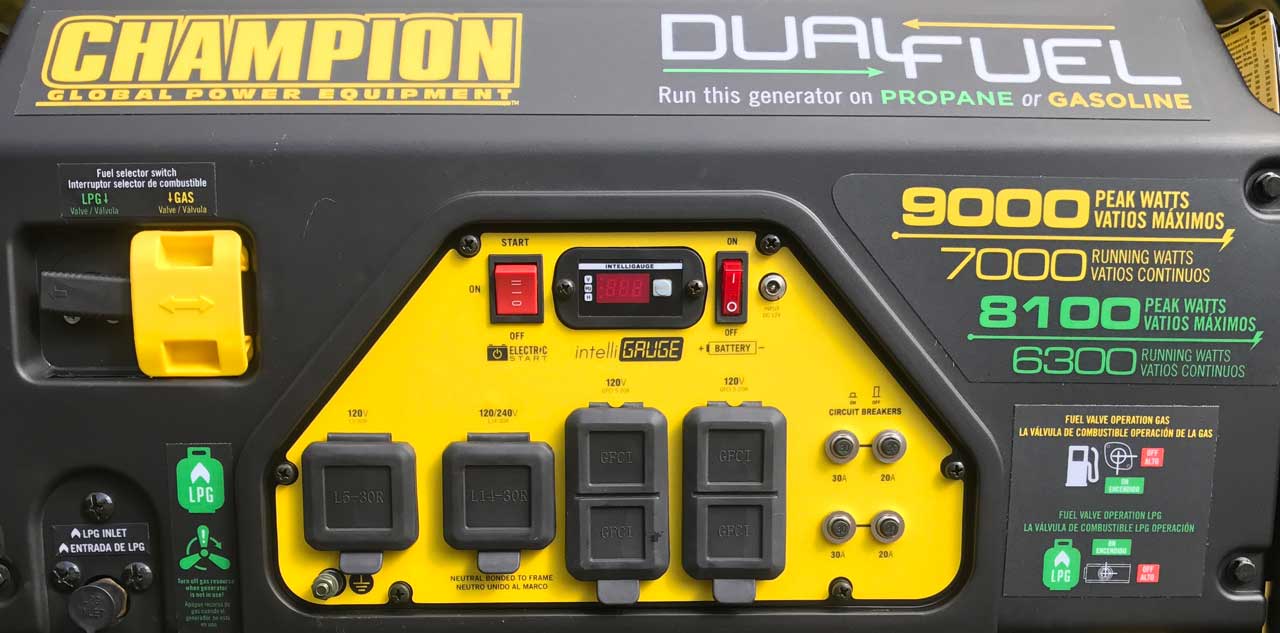 Champion 7000-Watt Dual Fuel Generator
Champion 7,000 Watt Generator
Champion's 7000-watt generator with electric start and 25-ft. extension cord features Dual Fuel, allowing the 439cc engine to run on either gasoline or propane. Featuring Intelligauge, Volt Guard™ and Cold Start Technology, it provides up to 8 hours of run time on gasoline or 5.5 hours on propane.
Visit Champion Power Equipment
CHAMPION 7000 WATT DUAL FUEL GENERATOR DESCRIPTION
The Champion Power Equipment 100155 7000-Watt Dual Fuel Generator is the perfect combination of versatility and convenience. Whether you need power for your home or next project, Champion Power Equipment makes powering your life more convenient than ever.
The included 25-ft. generator extension cord splits your power into four household outlets so you can extend your power, while the foldaway U-shaped handle and never flat tires make transport a cinch. The electric start includes a plug-in Smart Charger to keep your battery charged, plus Cold Start Technology ensures a quick start in cold weather.
Operate your Dual-Fuel generator on your choice of gasoline or propane, and easily switch fuels with our patented fuel selector switch that allows for safe switching between fuel sources.
Using gasoline, the 439cc Champion engine produces 9000 starting watts and 7000 running watts, and will run for 8 hours at 50% load when the 6.1-gallon fuel tank is full. It produces 8100 starting watts and 6300 running watts, and will run for 5.5 hours at 50% load when using a 20-pound propane tank. Also included is a 3.3-foot propane hose with a built-in regulator.
With a noise level of 74 dBA from 23 feet, which is a bit louder than a vacuum cleaner, this machine can provide home backup in an outage, plus the Volt Guard™ built-in surge protector keeps your equipment safe.
Easily monitor power output with Intelligauge, which allows you to keep track of voltage, hertz and run-time hours (gasoline only). Designed with a low oil shut-off sensor, this unit includes 1.2-quarts of 10W-30 oil.
All the outlets have covers and include a 120V 30A (L5-30R) and a 120/240V 30A (L14-30R) locking outlets and four 120V 20A GFCI protected household outlets (5-20R).
This generator is EPA certified and CARB compliant. Buy with confidence – Champion Support and our nationwide network of service centers will back your purchase up with a 3-year limited warranty and FREE lifetime technical support.
CHAMPION 7000 WATT DUAL FUEL GENERATOR SPECIFICATIONS
| | |
| --- | --- |
| Gasoline Starting Watts | 9000W |
| Gasoline Running Watts | 7000W |
| Propane Starting Watts | 8100W |
| Propane Running Watts | 6300W |
| Gasoline Starting Amps at 120V | 75.0A |
| Gasoline Starting Amps at 240V | 37.5A |
| Gasoline Running Amps at 120V | 58.3A |
| Gasoline Running Amps at 240V | 29.2A |
| Propane Starting Amps at 120V | 67.5A |
| Propane Starting Amps at 240V | 33.8A |
| Propane Running Amps at 120V | 52.5A |
| Propane Running Amps at 240V | 26.3A |
| Volts | 120/240 |
| Frequency | 60Hz |
| Outlets | 120/240V 30A Locking (L14-30R), 120V 30A Locking (L5-30R), GFCI 120V 20A Duplex (5-20R) (2) |
| GFCI Outlets | Yes |
| Covered Outlets | Yes |
| Gasoline Run Time at 1/2 Load | 8.0 h. |
| Propane Run Time at 1/2 Load | 5.5 h. |
| Noise Level | 74.0 dBA |
| Inverter | No |
| Parallel Capability | No |
| DC Operation | No |
| Voltmeter | Intelligauge |
| Automatic Voltage Regulation | Yes |
| Battery | Yes |
| Start Type | Recoil, Electric |
| Engine Brand | Champion |
| Engine Size | 439cc |
| Engine Type | 4-stroke |
| Engine Speed | 3600 |
| Fuel Type | Gasoline, Propane (LPG) |
| Fuel Gauge | No |
| Gasoline Capacity | 6.1 gal. |
| Gasoline Tank Material | Steel |
| Engine Oil Type | 10W-30 |
| Engine Oil Capacity | 1.2 qt. |
| Engine Oil Included | Yes |
| Low Oil Shut-Off | Yes |
| Wheels | Yes |
| Wheel Type | Solid |
| Wheel Diameter | 9.5 in. |
| EPA Certified | Yes |
| CARB Compliant | Yes |
CHAMPION 7000 WATT DUAL FUEL GENERATOR DIMENSIONS
Dimensions
| | |
| --- | --- |
| Length | 27.8 in. |
| Width | 28.7 in. |
| Height | 26.4 in. |
| Weight | 202.4 lb. |
CHAMPION 7000 WATT DUAL FUEL GENERATOR 100155 INSTRUCTION MANUAL
CHAMPION 7000 WATT DUAL FUEL GENERATOR 100155 MANUAL DEL OPERATOR
Save
Save