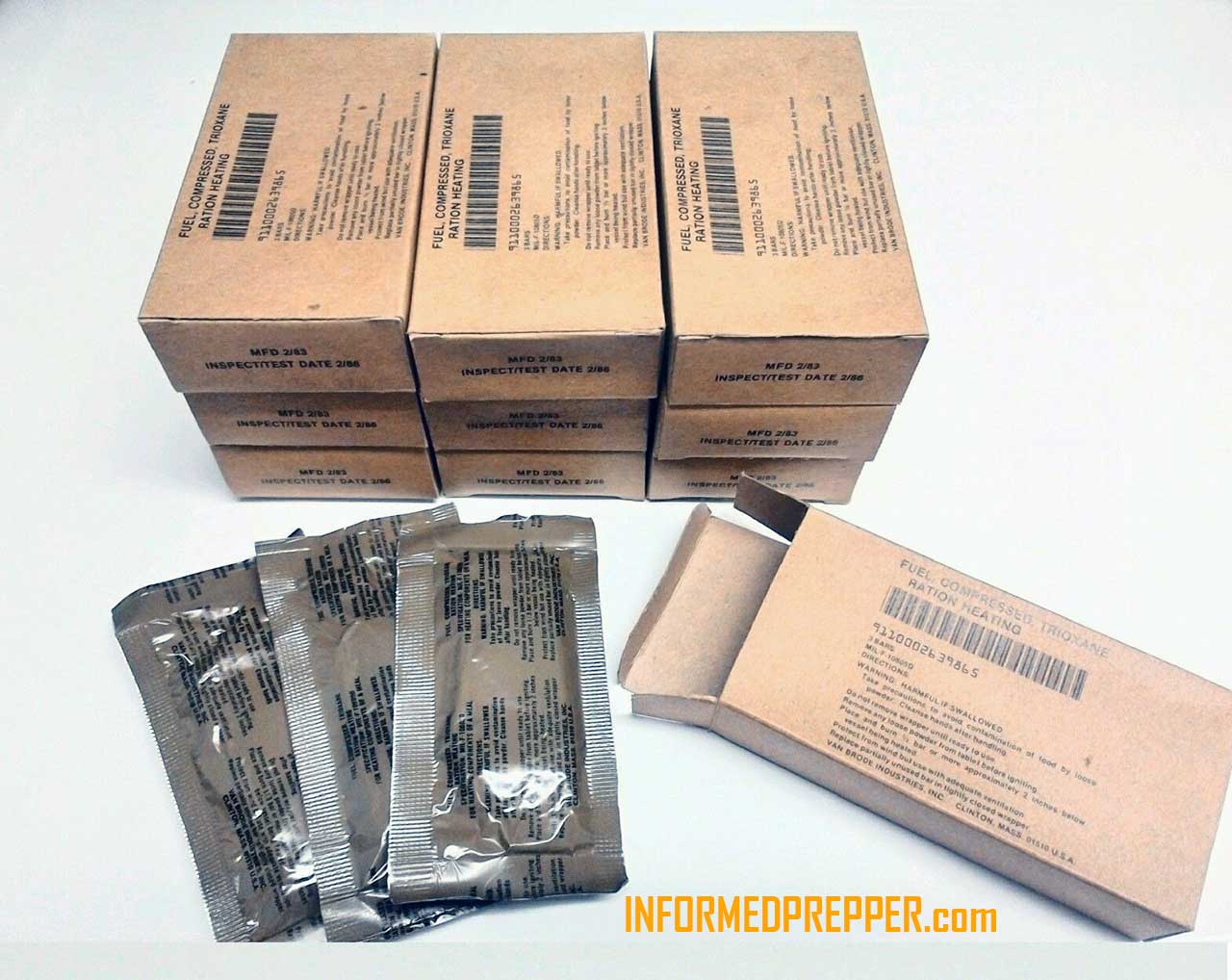 Trioxane Fuel Tablets For Starting Fires
I have been buying Trioxane Fuel Tablets from The Sportsman's Guide for over 30 years and if that isn't a testament of how much I like them I don't know what is. Trioxane Fuel Tablets were introduced to the US Military during the Vietnam War as a way of cooking MRE's quickly and quietly. That is no longer the case is there are better and safer fuels for cooking food, Esbit Tablets are probably the best and most well known for that purpose. There is one reason to own Trioxane Solid Fuel Tablets and that is to start fires.
Trioxane is unphased by wind and dampness and can be ignited with a spark. No other solid fuel can claim that. Over the years trioxane was my secret to building fires in the rain or with damp wood when everyone else had given up. I was a hero to the ladies. 
The trioxane tablet burns a cool looking, perfect, low blue flame for 5-10 minutes. It will ignite damp and soaked wood that would burn under normal conditions. 
I like to keep quite a few on hand for hiking, fishing or simply starting a fire. I also will give them as gifts to like minded individuals. Let's face it guys like to play with fire.
Today's trioxane tablets are packaged the same as they were 30 years ago but the price has gone up and the size has been reduced. I used to be able to split one table to light a fire in to spots. The size of today's fuel tablets has me using two for larger fires in damp conditions. Naturally today they are also available from Amazon.
---
Manufacturer Information: For fail-safe cooking and heating! These dense Trioxane Fuel Bars take up little space, efficiently stacking in your camping pack or onboard your boat / truck. Ignites easily for survival situations, and burns both CLEAN and HOT for hassle-free camp cooking in the dark and wet. Also less visible at night for covert missions.
U.S. MILITARY QUALITY HEAT YOU CAN TRUST IN AN EMERGENCY.
Build a HOT fire in no time. Trioxane is ready to light when other sources of tinder are few and far between. Heat up MREs, rations or other camp food effortlessly to keep morale high after a long day on the trail. When you don't have a trusted drinking source nearby, these tabs make boiling water a cinch. Be prepared!
FIELD TESTED FOR SURE-FIRE STARTING.
These Tabs will start your campfire with the touch of a match or spark from a fire starter stick. An essential camping tool for times when dry tinder cannot be found and fire starting is difficult.
U.S. military issue
Compressed fuel packs and transports easily
Burns hot, clean and soft blue for concealing your position
For hikers, hunters, campers and preppers
Boil water or cook food
Individually foil wrapped
3.5″ x 1.5″ x .25″
30 Bars packed 3 per box, each bar breaks for easier fuel rationing
Dependable flame and cooking heat. Don't lose your chance to stock up!
Key Specifications
Item Number: 700213
Quantity: 30
Material: Trioxane
Size: 3.5″ x 1.5″ x .25″
Country of Origin: USA
Condition: New, never issued