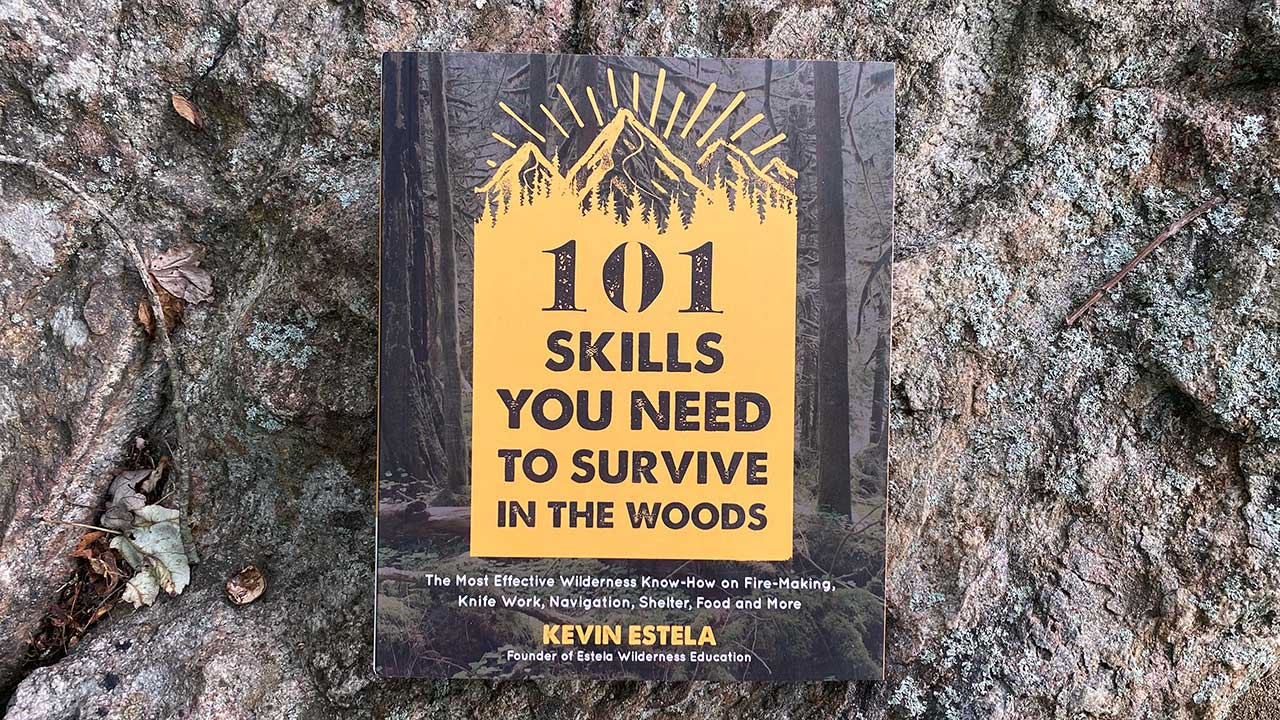 101 Skills You Need To Survive In The Woods - Kevin Estela
The first full-feature book written by accomplished Bushcraft/Survival Instructor and Author, Kevin Estela published on April 16th, 2019. The book, 101 Skills You Need to Survive In the Woods, published by Page Street Publishing, features proven methods of building fires, making shelters, using survival equipment, field crafting with natural resources, navigating, and increasing readiness overall. 
Visit the Kevin Estela Website
101 Skills You Need To Survive In The Woods focuses on transferring knowledge and skills to the reader in an easy to comprehend manner. Kevin's overall goal is to empowering the reader to safely explore the outdoors and travel confidently away from home.
The skills presented in the book are grounded in reality, Kevin's experiences traveling through the United States' wild places and exotic locations abroad, and the curriculum taught in Estela Wilderness Education courses since 2011. Each chapter features an in-depth introduction laying the foundation and critical background information of each set of skills, followed by essential skills and how to accomplish them, and concluding with training modifiers to revisit each skill with added difficulty and rigor. Throughout the book, the emphasis is placed on improving performance beyond simple completion of each skill. 101 Skills is not a one-time read and it will become an irreplaceable addition to any collection of survival books. 101 Skills is 208 pages long and features original color photography and black and white illustrations by Kevin's niece, Lauren Harton.
101 Skills You Need To Survive In The Woods draws heavily on Kevin's childhood when he learned survival skills from his father, his time as Lead Survival Instructor at the Wilderness Learning Center in Chateaugay, NY under noted Survival Instructor Marty Simon, and his experience in the Sayoc Tribe learning the skills and logical order of thinking taught by the late Founder Pamana Tuhon Christopher Sayoc Sr. whom Kevin considered a mentor and friend. Falling back on over 20 years of educator experience starting with his time as a kayaking and canoeing instructor to his present career as a High School History Teacher at Bristol Central High School, Kevin writes clearly, intelligently, and in a manner easily digested and comprehended by the reader.  Kevin has over 101 plus published print magazine articles in premiere survival magazines and writes for the reader. 101 Skills is more than a book the reader will be entertained by; it will inspire lifestyle changes making the reader ready for life's surprises and little emergencies. 101 Skills has received back-cover and inside-cover endorsements by some of the foremost experts in primitive living skills, military escape and evasion training, and outdoor professionals. The book will appeal to a broad audience and offers something for everyone.
---
101 Skills You Need to Survive in the Woods: The Most Effective Wilderness Know-How on Fire-Making, Knife Work, Navigation, Shelter, Food and More
The Foundation of All Survival Skills is "Feeder" Mind-Set
"Feeder" mind-set means being in control of a situation, proactive rather than reactive. It is an optimistic outlook that reframes any situation as a learning experience. Kevin Estela teaches survival skills from this feeder-based perspective, which is what separates his teaching style from other wilderness instructors.
Kevin has written the quintessential guide for an outdoor enthusiast's "bucket list" of skills―how to make a fire, build a shelter, gather food, find water, use a knife correctly and make cordage. These skills will keep you safe and better prepare you to deal with emergencies in the field when you'll need the additional skills of signaling and communication, navigation, and crisis first aid taught in this book. Each chapter concludes with more advanced techniques to build your skills in various challenging situations, with tips that even seasoned survival enthusiasts haven't thought of.
101 Skills You Need to Survive in the Woods is not a one time read but a lifetime reference you will turn to over and over again. It will become the first thing you pack for any adventure and just might save your― or someone else's―life. Kevin Estela, a bushcraft and survival expert, is an avid world traveler and martial arts instructor.​
---
Editorial Reviews
About the Author
Kevin Estela, a bushcraft and survival expert, is an avid world traveler and martial arts instructor. Kevin has worked with the History Channel and been a featured guest on numerous broadcasts and podcasts. A sought-after speaker, he has written well over 100 articles for such publications as Survivor's Edge, American Frontiersman, and the RECOIL network
Reviews
"Kevin Estela is my go-to survival teacher and mentor. He makes it all look easy, and his book is a great guide for anyone interested in survival skills." ―Kyle DeFoor, former SEAL and owner of DeFoor Proformance Shooting
"This is a no-nonsense approach to keeping yourself alive from someone with real-world experience, written with the hope that one tidbit of information will one day help someone out of a bad situation." ―Patrick Rollins, lead instructor for Randall's Adventure Training
"101 Skills You Need to Survive in the Woods is a comprehensive manual of skills every outdoors person should own. It will be at home in your pack or vehicle, or as a reference for teaching." ―Terry Barney, USAF survival instructor
"Kevin covers all the bases, providing you with the knowledge needed to survive an unexpected wilderness emergency because nobody expects it to happen to them." ―Doug Ritter, chairman and executive director of Knife Rights, Inc.
"Do yourself a favor. Get this book! Your life may very well depend upon it." ―Craig Caudill, director of Nature Reliance School and author of Extreme Wilderness Survival and Ultimate Wilderness Gear
---
Biography